Wear App Manager
Manage all your Android Wear smartwatch apps from a single convenient location
App List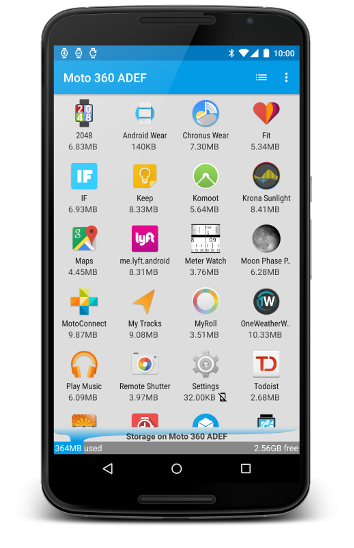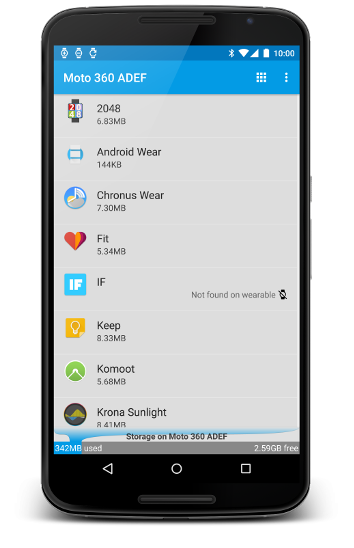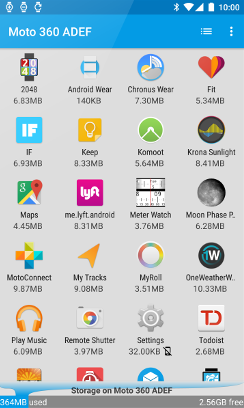 Wear App Manager's headline feature is to show all your Android Wear apps - and only your Wear apps - in one convenient location. The app list screen is where it happens.
Choose from a list- or grid-based layout, and sort the apps by name or by size. See at a glance which apps may be missing their wearable-side components, or if any are "orphaned" on your watch.
You can also do multiple-app operations here - like sharing details, or uninstalling - just by long-pressing on an app to get started. Or, simply tap on any app to open...
App Details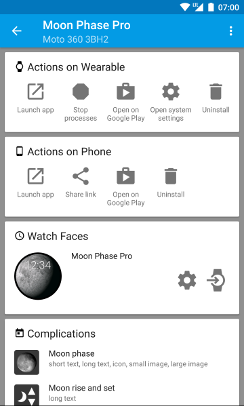 Wear App Manager also shows you more about your Wear apps than you'll get anywhere else, and the Details screen is where you'll find it. Version 4 includes the following details about each app:
Storage space actually used on-device, both for the app itself and its data
Version numbers
Date and time of first installation and most recent update
All permissions used by the wearable app, grouped by category
WAM also gives you direct links to perform the following functions with each app:
Launch on wearable

far easier than navigating through the Start menu on the watch

Launch on handheld

useful for configuring many Wear apps

Share link

send app details through email or social networks

Open on Google Play

a great way to contact the dev, or check for updates

Uninstall

I'm so over this app!
Notifications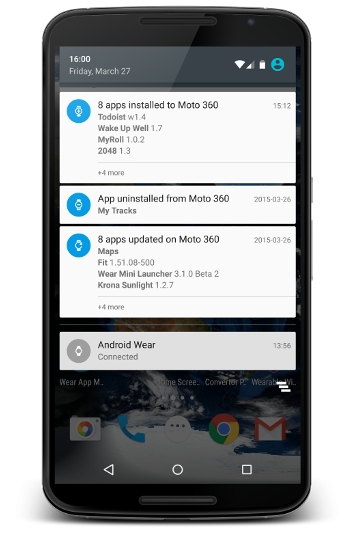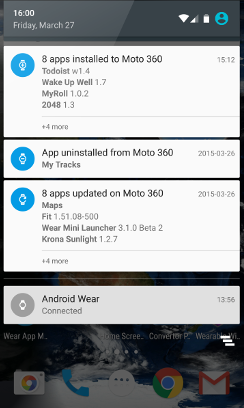 In theory, getting the wearable component of every app on and off your linked watch is smooth and seamless - in theory. In practice, we know that it doesn't always go as smoothly as we'd like: app changes can take some time to make their way from handheld to wearable, and there's no clear indication when it's happened.
So in addition to all its interactive features, Wear App Manager also keeps tabs on this activity, and notifies you whenever an app on your watch has been installed, updated, or uninstalled. The notifications are clean and concise, letting you know what's changed (and when) in an easy-to-read format.
They're also completely configurable. Just go into Settings in the WAM app (on your phone or tablet) to select exactly which app events you want notifications for, and on which device.
Getting Started
System Requirements
Wear App Manager exists to aid in the management of apps installed onto an Android Wear device linked to your phone. As such, a Wear smartwatch is a requirement for using the app, although there are no restrictions as to which Wear smartwatch you have. And of course, you will also need the prerequisites associated with Wear generally (Google's Android Wear app, a phone or tablet that supports Google Play Services, etc.).
For more information on getting started with Android Wear, please see the official documentation at https://support.google.com/androidwear/
Installation
Like all Android Wear apps, Wear App Manager is packaged as a single APK, which contains both the handheld and wearable components. The APK is installed onto the handheld (phone or tablet) just like a conventional app. Google's Android Wear app should then detect the presence of a Wear component embedded in the APK, and push that piece to the linked smartwatch automatically.
If this doesn't happen automatically, it's possible to "encourage" it by opening the Android Wear app (on the phone/tablet) and selecting Settings > Resync apps. This process may take a couple of minutes for all the app components to be synchronized.
Use
Once the app is fully installed, the user interface for Wear App Manager is almost entirely on the phone (or tablet) side; there's not currently an activity to launch on the wearable. So run the app on your handheld, it will start by showing you a list if your Wear apps, and you can go from there.